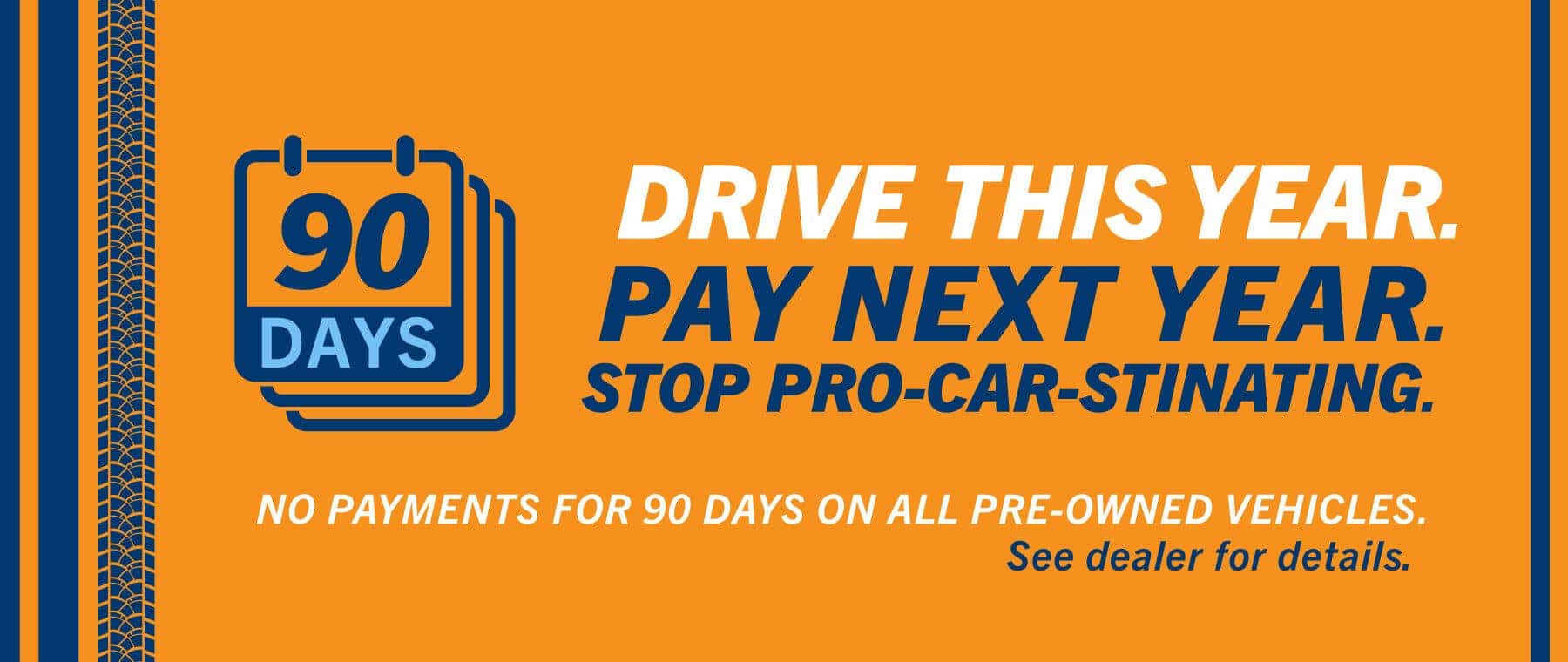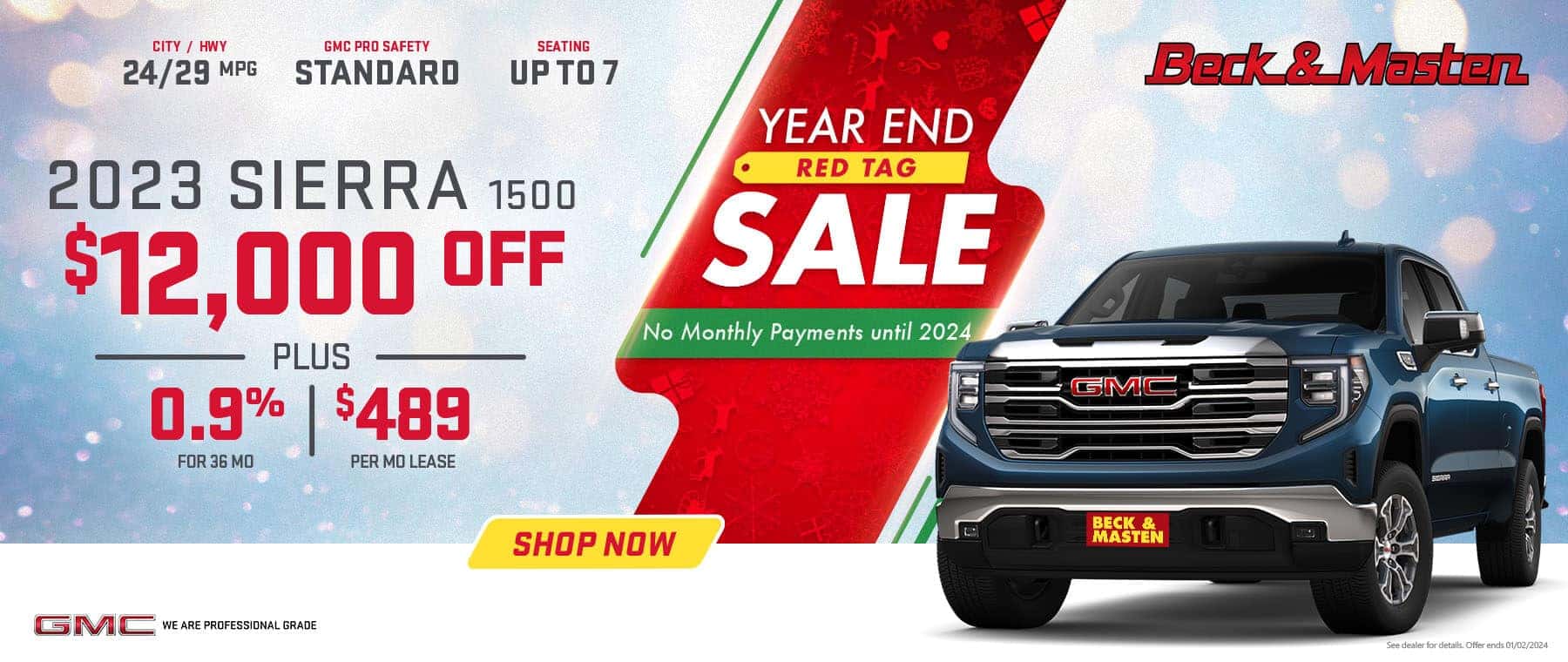 Lease Offer: Sierra 1500, Year: 2023, Make: GMC, Trim: Pro, MSRP: $54,125 Lease Payment: $489, Term Length: 39, Amount due at signing: $7,956. Miles per year: 10K Overage Mileage Charge: 0.25. Security Deposit: $250 Stock #PZ189735. Dealer Discount: $5,620. Vehicle available at this price: $48,505. The total amount paid during the lease term $19,071. Tax, title, license and dealer fees $150. Closed-end lease. Payments may be higher in some states. Option to purchase at lease end for an amount to be determined at lease signing. Offer ends: 1-02-2024. Lessee pays for maintenance, repair, excess wear, and disposition fee of $495 or less at end of lease. Payments may be higher in some states. Lessees are responsible for auto insurance on the leased vehicle. Lessees is responsible for any penalties or other charges will be imposed for payment delinquency. Early termination fee will apply. Payments may be higher in some states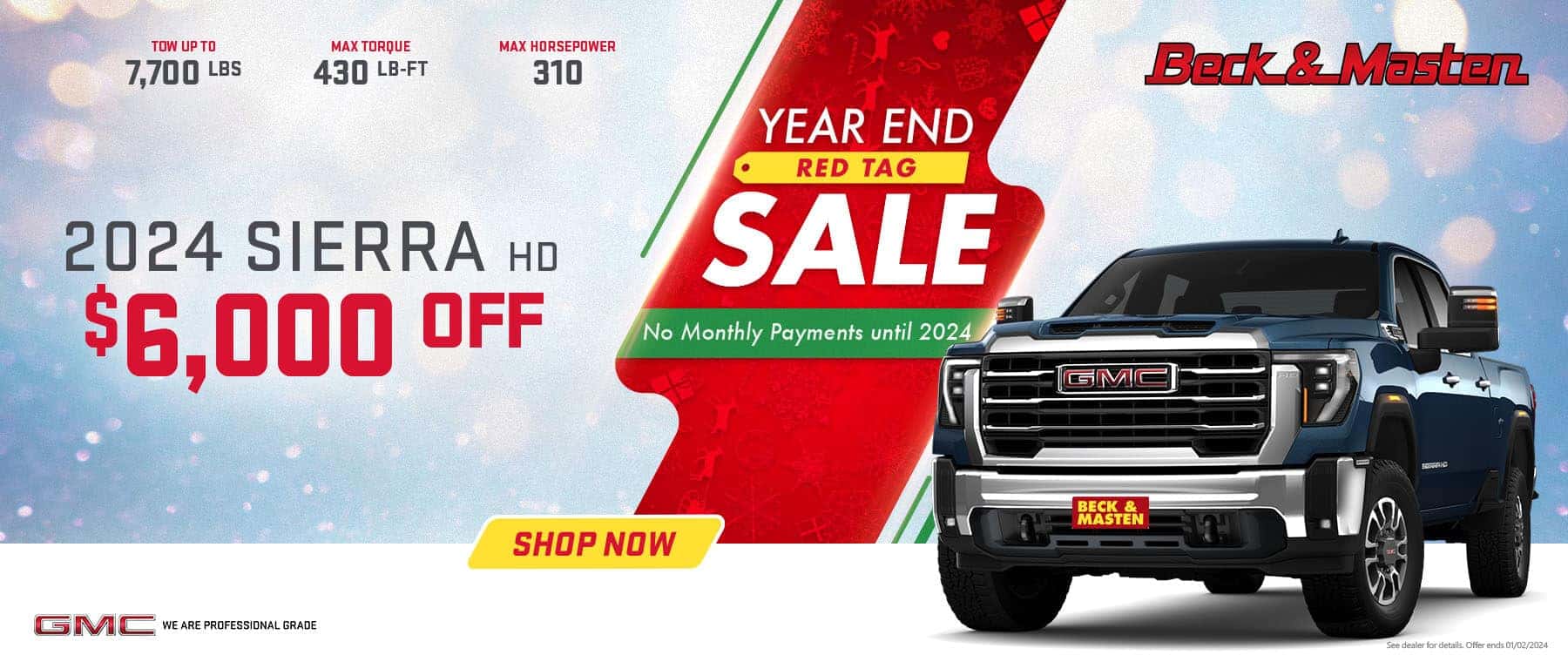 Purchase Disclaimer: Sierra HD, Year: 2024, Make: GMC, Trim: SLT, MSRP: $83,535. Stock # RF266031. Dealer Discount $6,000. Final Price after dealer discount $77,535. Finance offer cannot be combined with other discounts and offers. Tax, title, license and dealer fees extra. Offer ends: 1-02-2024
Lease Disclaimer: Yukon, Year: 2023, Make: GMC, Trim: SLE, MSRP: $60,285 Lease Payment: 669, Term Length: 39, Amount due at signing: $9,537 Miles per year: 10K Overage Mileage Charge: 0.25. Security Deposit: $250 Stock #PR528437. Lease factory rebates: $0. Vehicle available at this price: $60.285. The total amount paid during the lease term $26,091.00. Tax, title, license and dealer fees $150. Closed-end lease. Payments may be higher in some states. Option to purchase at lease end for an amount to be determined at lease signing. Offer ends: 4-December 2023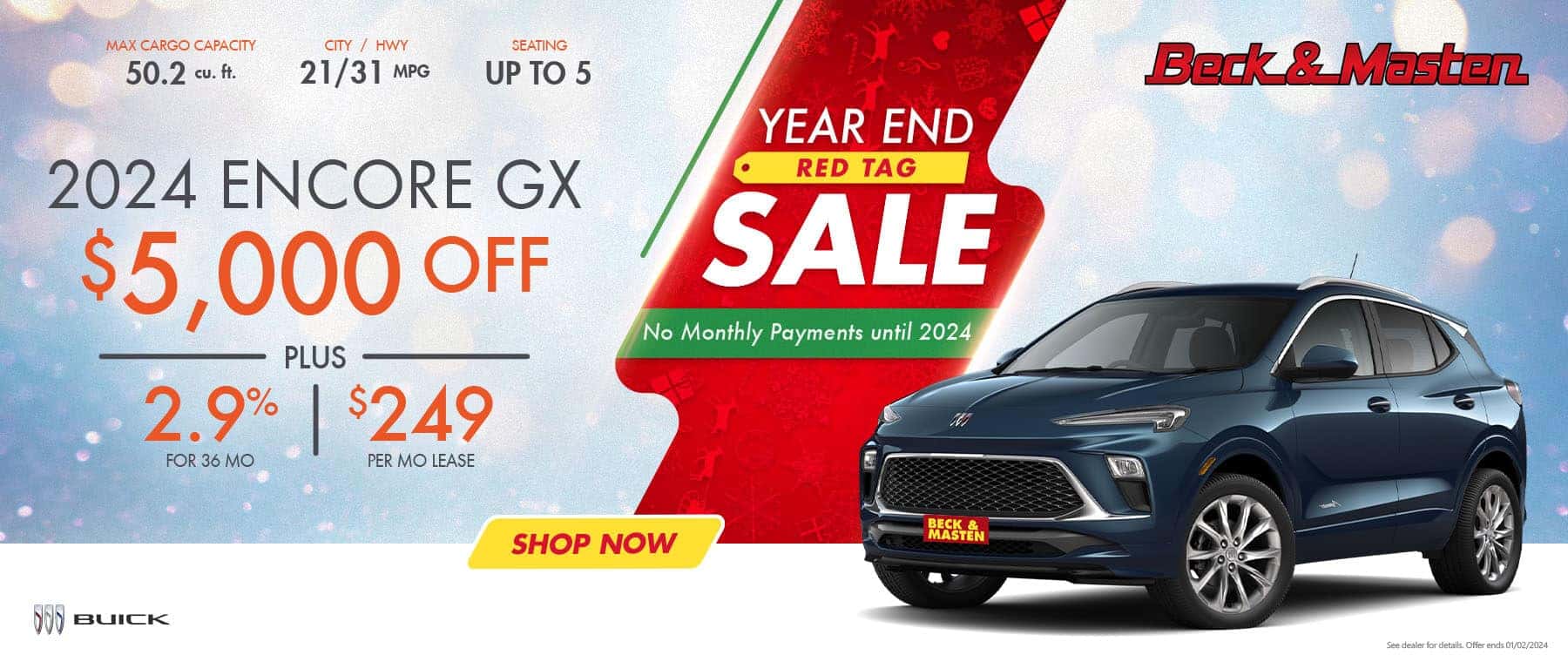 2024 Encore GX- Lease offer: Encore, Year: 2024, Make: Buick, Trim: GX, MSRP: $27,390 Lease Payment: 249, Term Length: 24, Amount due at signing: $7,441. Miles per year: 10K Overage Mileage Charge: 0.25. Security Deposit: $250 Stock #RB003634. Lease factory rebates: $1,500. Vehicle available at this price: $25,890. The total amount paid during the lease term $5,976. Tax, title, license and dealer fees $150. Closed-end lease. Payments may be higher in some states. Option to purchase at lease end for an amount to be determined at lease signing. Offer ends: 1-04-2024. Lessee pays for maintenance, repair, excess wear, and disposition fee of $495 or less at end of lease. Payments may be higher in some states. Lessees are responsible for auto insurance on the leased vehicle. Lessees is responsible for any penalties or other charges will be imposed for payment delinquency. Early termination fee will apply. Payments may be higher in some states. Purchase Disclaimer: Encore, Year: 2024, Make: Buick, Trim: GX, MSRP: $27,390. Stock #RB003634. Dealer Discount $ 3,700. Final Price after dealer discount $23,690. Finance offer cannot be combined with other discounts and offers. Tax, title, license and dealer fees extra. Offer ends: 1-04-2024. Finance Offer: 2.9 % APR for 36 months for qualified buyers when you finance with GM. Finance offer cannot be combined with other discounts and offers. Tax, title, license and dealer fees extra. Offer ends: 1-04-2024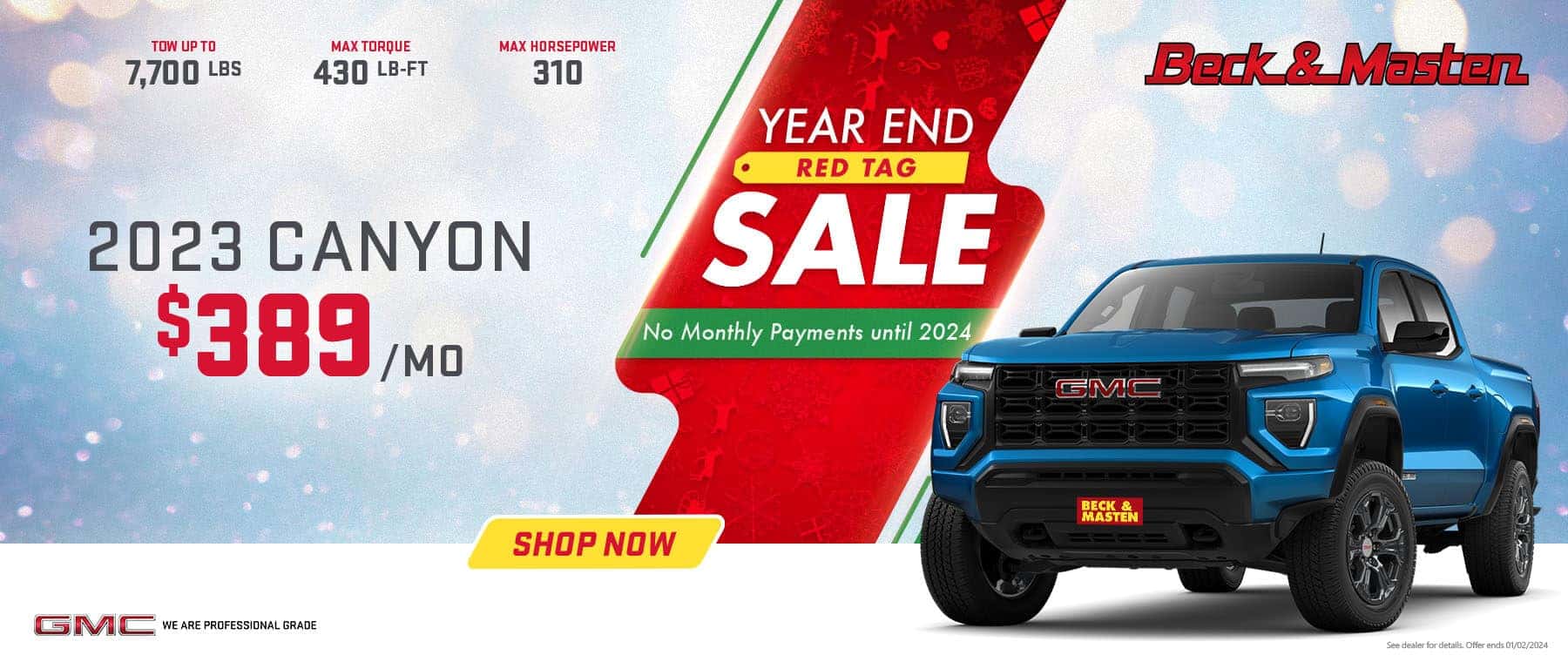 Lease Disclaimer: Canyon, Year: 2023, Make: GMC, Trim: Elevation, MSRP: $41,020.00 Lease Payment: 389, Term Length: 39, Amount due at signing: $4,102. Miles per year: 10K Overage Mileage Charge: 0.25. Security Deposit: $250 Stock #P1168623. Lease factory rebates: $0. Vehicle available at this price: $41,020.00. The total amount paid during the lease term $15,171.00. Tax, title, license and dealer fees $150. Closed-end lease. Payments may be higher in some states. Option to purchase at lease end for an amount to be determined at lease signing. Offer ends: 1-04-2024. .Lessee pays for maintenance, repair, excess wear, and disposition fee of $495 or less at end of lease. Payments may be higher in some states. Lessees are responsible for auto insurance on the leased vehicle. Lessees is responsible for any penalties or other charges will be imposed for payment delinquency. Early termination fee will apply. Payments may be higher in some states. Offer ends: 1-04-2024
2023 Acadia Lease offer: Acadia, Year: 2023, Make: GMC, Trim: SLE, MSRP: $40,440. Lease Payment: 347, Term Length: 24, Amount due at signing: $7,599. Miles per year: 10K Overage Mileage Charge: 0.25. Security Deposit: $250 Stock # Z178766. Lease factory rebates: $1,500. Vehicle available at this price: $38,940. The total amount paid during the lease term $8,328. Tax, title, license and dealer fees $150. Closed-end lease. Payments may be higher in some states. Option to purchase at lease end for an amount to be determined at lease signing. Offer ends: 1-04-2024. Lessee pays for maintenance, repair, excess wear, and disposition fee of $495 or less at end of lease. Payments may be higher in some states. Lessees are responsible for auto insurance on the leased vehicle. Lessees is responsible for any penalties or other charges will be imposed for payment delinquency. Early termination fee will apply. Payments may be higher in some states. Finance Offer: 1.9% APR for 36 months for qualified buyers when you finance with GM. Finance offer cannot be combined with other discounts and offers. Tax, title, license and dealer fees extra. Offer ends: 1-04-2024. Purchase Disclaimer: Acadia, Year: 2023, Make: GMC, Trim: SLE, MSRP: $37,950. CTP Stock # PZ256205. Dealer Discount $6,050. Final Price after dealer discount $31,900. Finance offer cannot be combined with other discounts and offers. Tax, title, license and dealer fees extra. Offer ends: 1-04-2024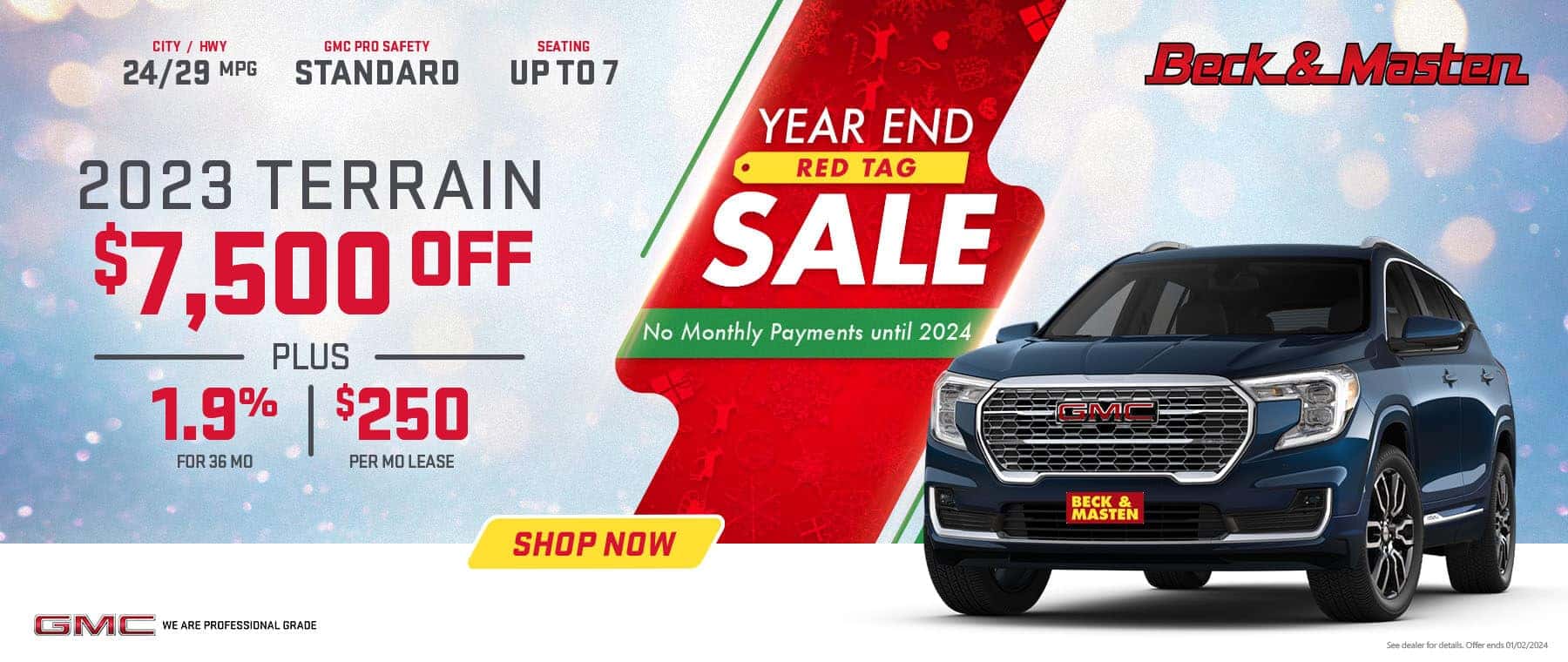 2023 Terrain Lease offer: Terrain, Year: 2023, Make: GMC, Trim: SLE, MSRP: $31,295. Lease Payment: 250, Term Length: 24, Amount due at signing: $7,029. Miles per year: 10K Overage Mileage Charge: 0.25. Security Deposit: $250 Stock # L173732. Lease factory rebates: $1,000. Vehicle available at this price: $30,249. The total amount paid during the lease term $6,000. Tax, title, license and dealer fees $150. Closed-end lease. Payments may be higher in some states. Option to purchase at lease end for an amount to be determined at lease signing. Offer ends: 1-04-2024. Lessee pays for maintenance, repair, excess wear, and disposition fee of $495 or less at end of lease. Payments may be higher in some states. Lessees are responsible for auto insurance on the leased. vehicle. Lessees is responsible for any penalties or other charges will be imposed for payment delinquency. Early termination fee will apply. Payments may be higher in some states. Finance Offer: 1.9% APR for 36 months for qualified buyers when you finance with GM. Finance offer cannot be combined with other discounts and offers. Tax, title, license and dealer fees extra. Offer ends: 1-04-2024. Purchase Disclaimer: Terrain, Year: 2023, Make: GMC, Trim: SLE, MSRP: $31,940. CTP Stock # PL243179. Dealer Discount $6,040. Final Price after dealer discount $25,900. Finance offer cannot be combined with other discounts and offers. Tax, title, license and dealer fees extra. Offer ends: 1-04-2024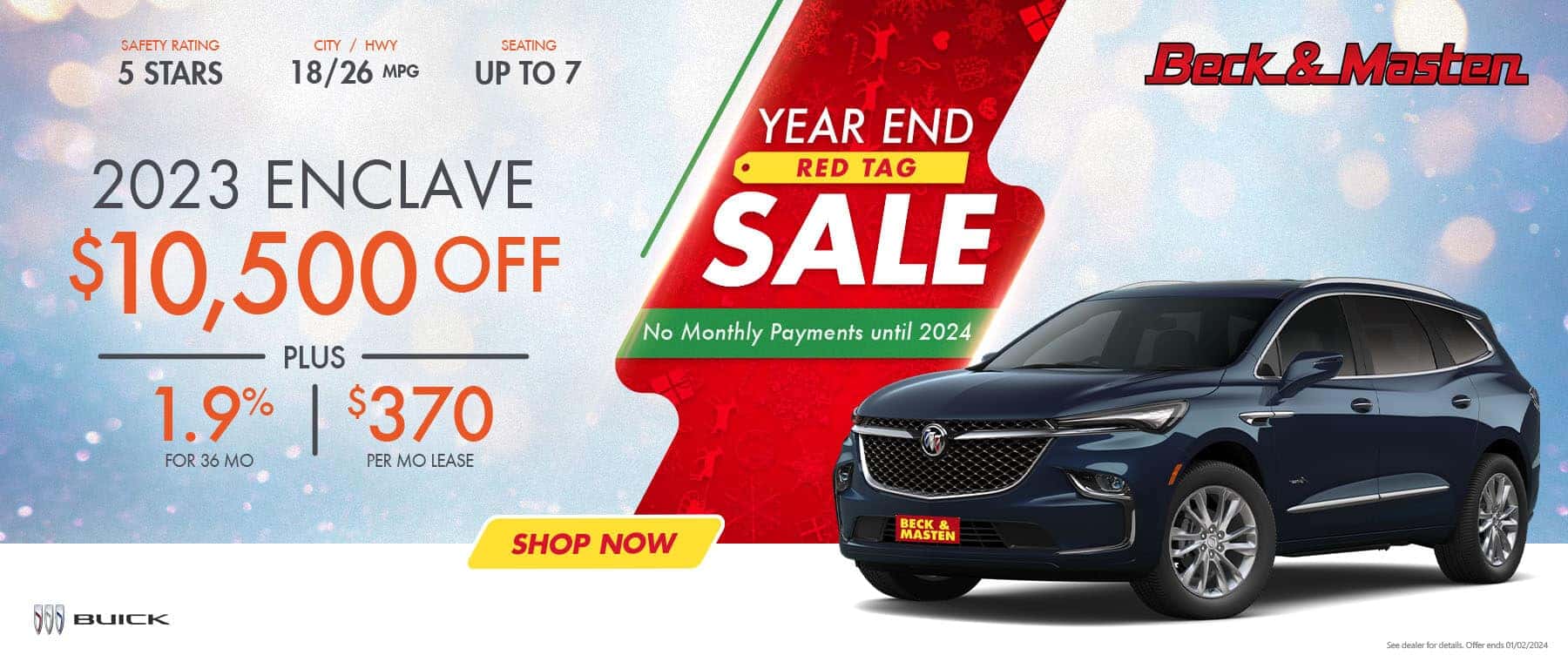 2023 Enclave- Lease offer: Enclave, Year: 2023, Make: Buick, Trim: Essence, MSRP: $49,635 Lease Payment: 370, Term Length: 24, Amount due at signing: $7,445. Miles per year: 10K Overage Mileage Charge: 0.25. Security Deposit: $250 Stock #J207869. Lease factory rebates: $2,500. Vehicle available at this price: $47,135. The total amount paid during the lease term $8,880. Tax, title, license and dealer fees $150. Closed-end lease. Payments may be higher in some states. Option to purchase at lease end for an amount to be determined at lease signing. Offer ends: 1-04-2024. Lessee pays for maintenance, repair, excess wear, and disposition fee of $495 or less at end of lease. Payments may be higher in some states. Lessees are responsible for auto insurance on the leased vehicle. Lessees is responsible for any penalties or other charges will be imposed for payment delinquency. Early termination fee will apply. Payments may be higher in some states. Finance Offer: 1.9% APR for 36 months for qualified buyers when you finance with GM. Finance offer cannot be combined with other discounts and offers. Tax, title, license and dealer fees extra. Offer ends: 1-04-2024. Purchase Disclaimer: Enclave, Year: 2023, Make: GMC, Trim: Essence, MSRP: $46,840. CTP Stock # PJ240481. Dealer Discount $7,940. Final Price after dealer discount $38,900. Finance offer cannot be combined with other discounts and offers. Tax, title, license and dealer fees extra. Offer ends: 1-04-2024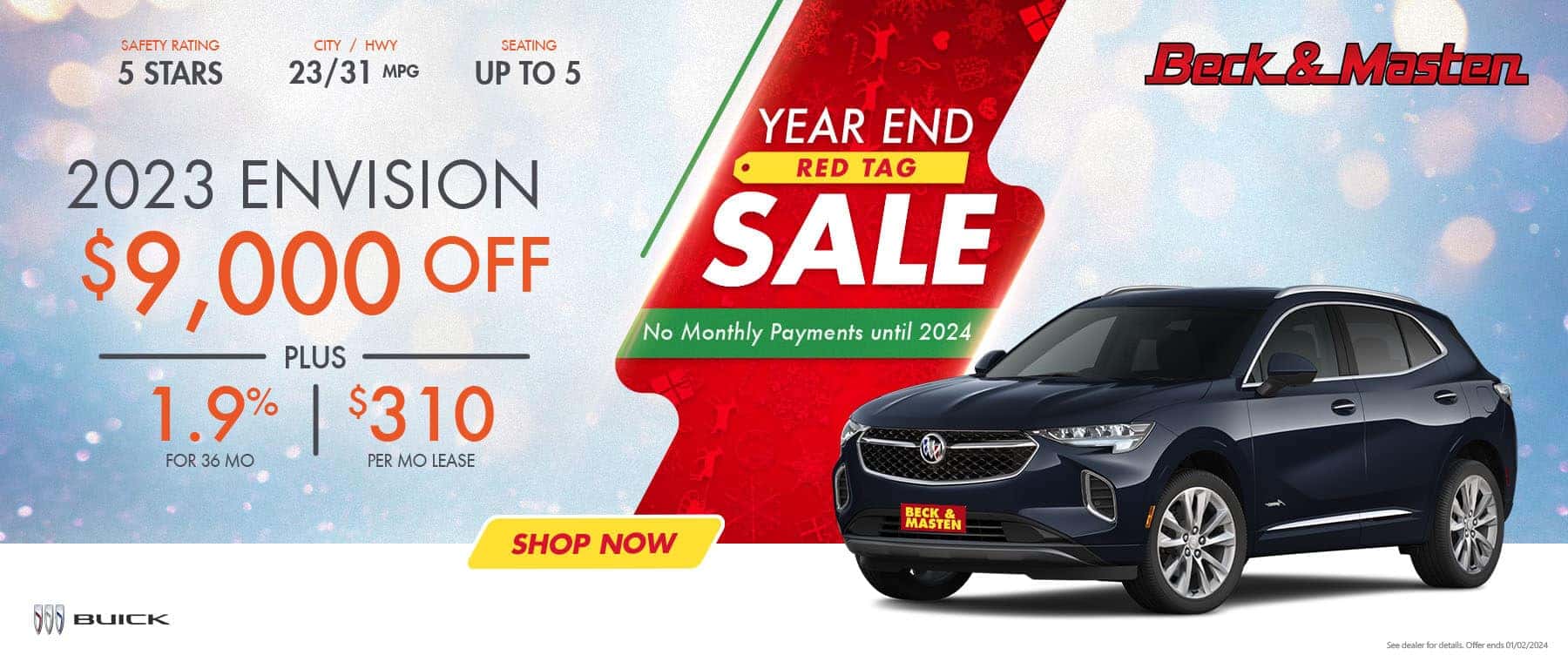 Purchase Disclaimer: Envision Year: 2023, Make: Buick, Trim: Avenir, MSRP: $46,900. DEMO Stock #PD067293. Dealer Discount $8,000. Factory Rebate $1000. Final Price after dealer discount $37,900. Finance offer cannot be combined with other discounts and offers. Tax, title, license and dealer fees extra. Offer ends: 1-02-2024. 2023 Envision Lease offer: Envision, Year: 2023, Make: Buick, Trim: Preferred, MSRP: $34,745 Lease Payment: 310, Term Length: 24, Amount due at signing: $6,206. Miles per year: 10K Overage Mileage Charge: 0.25. Security Deposit: $250 Stock #D019386. Lease factory rebates: $500. Vehicle available at this price: $34,245. The total amount paid during the lease term $7,440. Tax, title, license and dealer fees $150. Closed-end lease. Payments may be higher in some states. Option to purchase at lease end for an amount to be determined at lease signing. Offer ends: 1-02-2024. Lessee pays for maintenance, repair, excess wear, and disposition fee of $495 or less at end of lease. Payments may be higher in some states. Lessees are responsible for auto insurance on the leased vehicle. Lessees is responsible for any penalties or other charges will be imposed for payment delinquency. Early termination fee will apply. Payments may be higher in some states. Finance Offer: 1.9 % APR for 36 months for qualified buyers when you finance with GM. Finance offer cannot be combined with other discounts and offers. Tax, title, license and dealer fees extra. Offer ends: 1-02-2024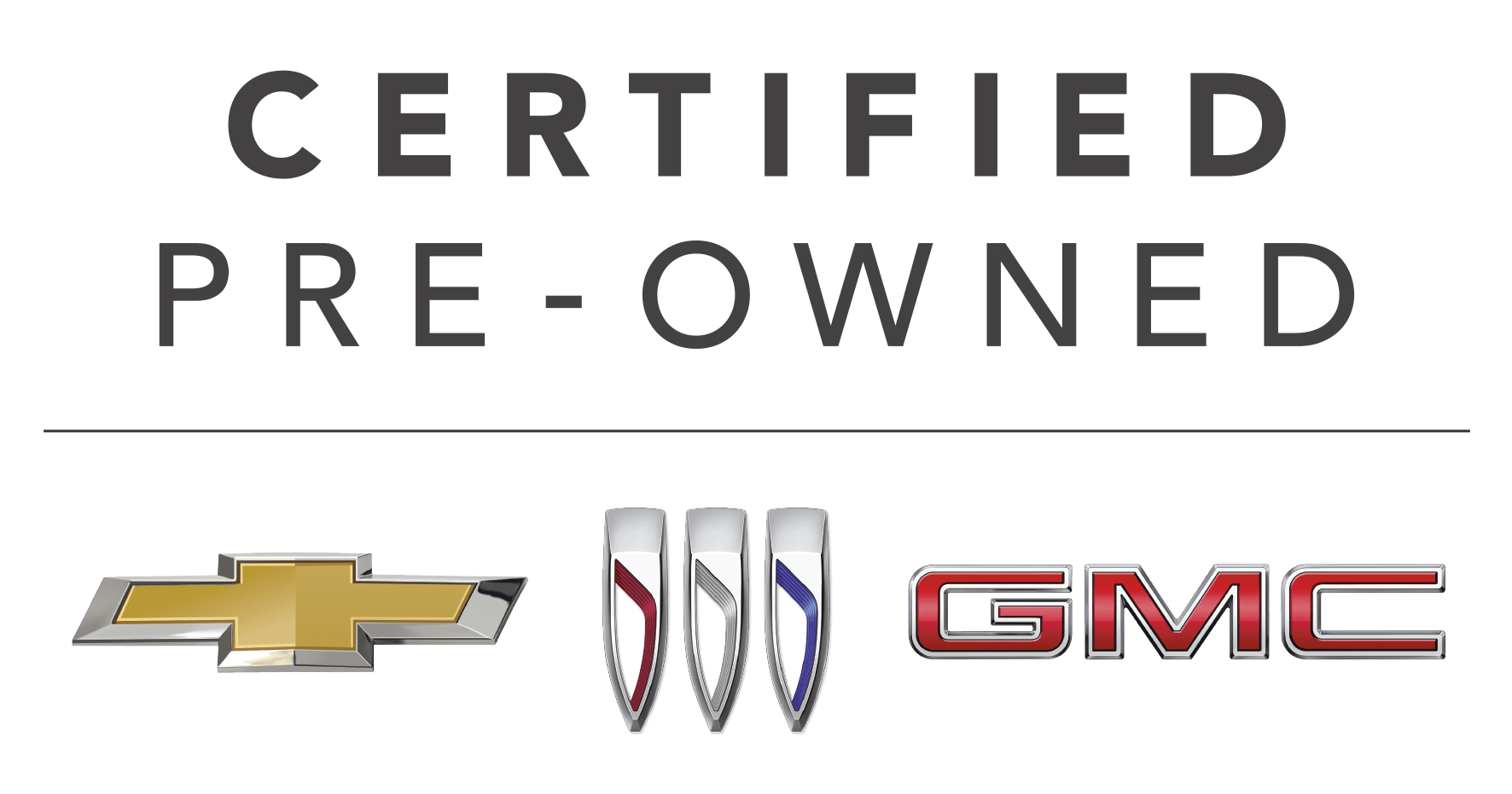 Each Buick/GMC Certified Pre-Owned vehicle is thoroughly inspected and reconditioned and includes factory-backed limited warranties and roadside assistance.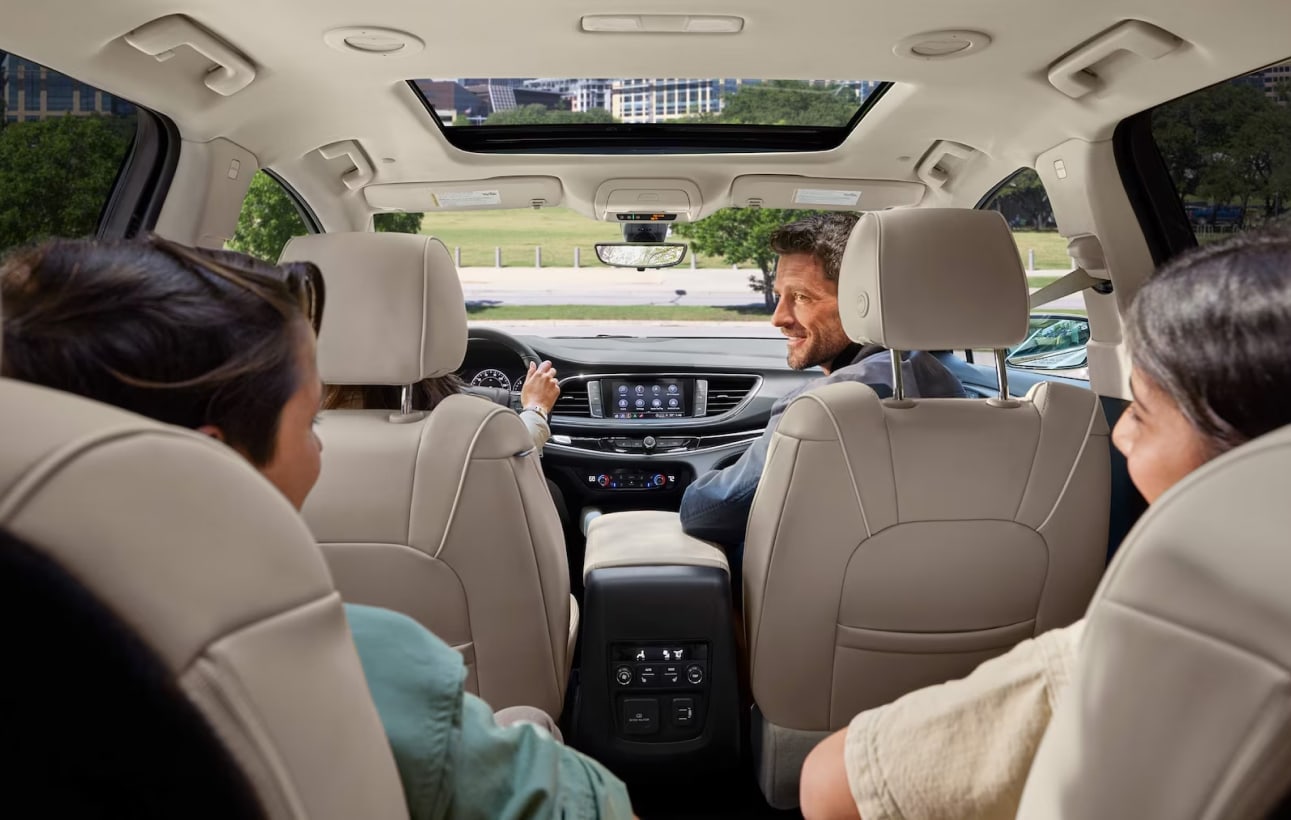 Current Offers
View this month's current offers and promotions on select Buick/GMC vehicles.
Our Reviews
I want to thank out car salesman Hector Rincon. He was very helpful and knowledgeable and made our car shopping experience a smooth process. Make sure to ask for him when car shopping at Beck and Masten North, he'll look out for you.☺️
Francisco was a great salesman. He helped me do the whole transaction online, always answered my questions, I never made me feel like I was asking too many. He made the experience a very smooth one us.
Made an appointment, was provided a estimated time to complete work and Jade, kept me informed of the progress and work was completed within the time frame that I was told it would be done.
Dropped off my truck for service and some other issues. The service writer asked good questions to my notes I took in which was very helpful for them to understand what other issues had been going on.
Honestly this one was my best experience so far at any dealership. Cory was my salesman and he was amazing, five star rating, he will go above and beyond and he did. Robert Wolf the manager also stepped in to ensure we were happy and also made sure we got a great deal. Enrique Landaverde our financing rep also made sure we were in and out with no hesitation and left happy. We appreciate everything they did and are truly grateful for their help.
David was of great help. He helped my husband purchase his dream truck.
(Translated by Google) The best of the best and first-class attention ☺️ (Original) Lo mejor de lo mejor y las atenciones de primera ☺️
Great experience with our sales associate AK, I will definitely recommend this dealership!
As a customer, and not a fan of sales people, I had a surprisingly pleasant experience here. I'd gave to say Mr. John Gerges took care of everything very promptly and professionally! I was getting updates on the status of the car and it's arrival to the dealership, he walked me through the process of everything I needed to know since this is my first vahicle being financed. I'll gladly recommend him around!
Justin took great care of us!!
Communication was excellent. Information accurate. Not a single thing was out of place.
Salesperson MIchelle went above and beyond expectations Best experience ever and the Sales Manager was the best we ever delt with
We purchased a GMC 1500 Denali Ultimate with Dai and she was wonderful! We had a great experience and will recommend Beck and Masten to our friends and family in the future. Cesar was also very great in helping make the financial component easy and timely. Thank you!
Tony Rogers was excellent in every facet of the process of purchasing my truck and made the experience as painless as possible.
Definitely a smooth experience. From being greeted at the entrance all the way thru delivery. All friendly staff there.
John did an awesome job offering us food and the best service we could get. Also, at financing they made us feel welcomed. Highly recommend them !!!!
Naz was excellent and made my experience super seamless.
I bought a certified used vehicle (my 6th car from the North location). There was a problem with the spare and the jack. I made a call to the team at Beck and Masten and they took care of me with a flair. Glad to see a dealership that's in touch with the customer - it's refreshing.
Joe, our salesperson was very nice and allowed us to tell him what we were looking for before making our selection.
This was my first time buying a new car and I went into the car-buying process without much clarity on which vehicle I wanted to move forward with. I was looking to upgrade my 2016 Kia Forte so all of the features on the new cars were a lot to take in and figure out. Luckily, the team at Beck & Masten was a massive help and it all started with the Fleet Manager, Ruben Ortega. He heard my wants and allowed me the freedom to go test drive the Buick Envision at my own leisure. That was huge and gave me the chance to really get comfortable with all of the features the car had to offer. After taking the weekend to test drive other cars and visit other dealerships, I was most impressed with my experience here. When I decided to move forward with the Buick, the team offered me a GREAT deal and wasn't pushy or making it feel as though they were trying to hit a quota. They knew what I was and wasn't comfortable moving forward with and met me where I was at as much as they could. The Sales Manager - Robert Wolff, the Finance Manager - Enrique Landaverde, and ultimately the GM - Joe Pierce, were a huge part of that. I'm incredibly satisfied with how this dealership helped me throughout the process and ended up finding me a car I love. Highly recommend -- even if you're not serious about anything they have (I originally went to eliminate an option but ended up buying after visiting 6 other dealerships across Houston)!
Naz helped me by troubleshooting a battery problem that resulted in error codes appearing on my dashboard. He identified the problem and indicated the codes checked were related to a voltage problem which was pinpointed to my car battery. He also told me while I was waiting for my car battery to be replaced that there was a recall on a lighting component which was, in turn, replaced. From my perspective, he exceeded my expectations by notifying me of this issue. My car now functions perfectly and I'm extremely pleased with the service provided by Naz! Thx so much!!!
If you go here I recommend asking for Tony Roger's. He was a great hardworking salesman who helped me get my graduation car. Even though I was young he went above and beyond to help me understand and learn about the process. He took his precious time to deal with me and explain things he did not have to. He deserves all of his credit and opportunities!!!
Buick GMC Dealer In Houston TX
---
Welcome to the Beck & Masten Buick GMC North Dealership
Beck & Masten Buick GMC North welcomes you to our local Houston Buick GMC dealership near you. Visit our Buick GMC Showroom, Service Center, Finance Center, Leasing Office, and Auto Parts Store, all under one roof, to best serve you and your family. Whether you are looking for Buick GMC Deals, Service, Finance, Selection, or Online Car Buying, Beck & Masten Buick GMC North is here for you.
---
Houston Buick GMC Cars & Trucks For Sale Near You
The Beck & Masten Buick GMC North dealership is your local car and truck dealer, offering Buick GMC trucks and SUVs for sale and lease in the Houston, TX, area. Whether you're looking for a great deal on a new, used, or certified pre-owned vehicle for sale, you're sure to find something special at Beck & Masten Buick GMC North.
---
Buick GMC Service, Finance & Leasing Center In Houston
Our Buick GMC Service, Finance, & Leasing Center in Houston is your go-to source for all your Buick GMC needs in one convenient place. Our Houston Buick GMC dealership's team of lease and finance specialists, certified technicians, and genuine Buick GMC parts experts are ready to offer you an exceptional experience at Beck & Masten Buick GMC North.
---
Buick GMC Concesionario Houston
Beck & Masten Buick GMC North le invita a visitar nuestro concesionario de autos nuevos y usados en Houston, TX. Visítanos hoy para carros Buick GMC así como servicio completo, autofinanciamiento y más. Nuestro equipo está listo para ayudarle a descubrirlos, porqué somos uno de los mejores distribuidores de coches Buick GMC en el área Houston.
---
Houston Buick GMC General Motors Dealership | Beck & Masten Buick GMC North
Ask A Question